Presentation night 2017: double win for Saif, and Macca says farewell
Posted by Richard Kendall on 9 November 2017
Peterborough Town have said farewell to one of local cricket's most successful club professionals.
Off-spinning all rounder Paul McMahon has left Bretton Gate after a six-season career at Bretton Gate which started in 2011 (he missed the 2016 campaign because of injury) because work commitments will take him overseas next summer.
Paul McMahon was a key part of PTCC's hat-trick of Northants Premier Division titles between 2012-2014. 
He also excelled during the famous run to National Club T20 Finals Day in 2014, where PTCC reached the semi-finals.
Some of 'Macca's statistics during his time at PTCC:
The team won 73.1% of the 154 matches McMahon played in.
He struck 2,301 runs at an average of 26.
He took 389 wickets at just 12.14 apiece.
The off-spinning all rounder and former England U19 captain (pictured, back, third from left with the 2017 1st XI), sent a video message for the club's 2017 presentation night in November.
"I've had a fantastic time, both on and off the field," McMahon stated via videolink at the presentation night at The Bull Hotel in central Peterborough. 
"I'm glad I took (former captain) Ajaz Akhtar up on his offer at the end of the 2010 summer to join the club.
"Winning the Northants League Premier title in 2012, 2013 and 2014 will always be one of the highlights of my playing career.
"The individual games that stand out are the three regional T20 Finals Days in 2011, 2013 and 2014 at Bretton Gate, Cuckney and Ockbrook & Borrowash, were amazing days, and will remain vivid memories of my time at Town.
"Just the feeling of belonging and the shared experiences of being at a club where people put in so much. What struck me most about Town is that people really do invest in it.
"That for me is at the heart of what makes a club run successfully. You really do get out what you put in, on and off the pitch."
End of season awards
All-rounder Lewis Bruce picked up the Saturday first XI player of the year award, as the team finished third in the Northants League Premier Division.
Teenager Mohammed Saif was a double winner at the presentation night. The 16 year-old off-spinner was named Sunday first XI player-of-the-year by skipper Jamie Smith, and also took home the club's young player-of-the-year award.
Saif took 23 wickets at just over 20 runs apiece in Rutland Division One, and a further 26 wickets in Northants Division Two on Saturdays.
There was also several comments of thanks​ and credit to Gary Rice for producing consistently improved and good pitches during 2017, so good that Cambridgeshire will play their first games at Bretton Gate in 20 years in 2018.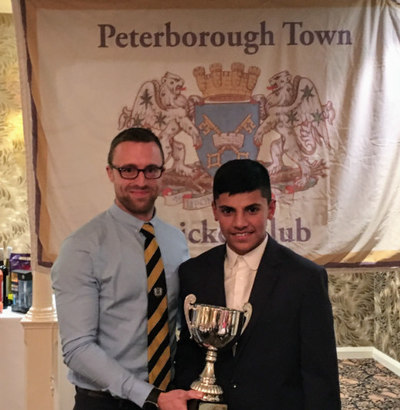 Other award winners: 
Saturday 2nds player-of-the-year, Nadir Haider
Bob Pilgrim prize for Saturday 2nds supporters player of the year, Nadir Haider
Saturday 3rds player-of-the-year Sufyaan Iqbal
Sunday 2nds player-of-the-year Ashan Azhar
Clubman/woman awards to the Medcalf family, Ian, Debbie and Kyle for all the work, support and cakes during the season
Special presentation to second team bowler Richard Kendall, who claimed his 500th Northants League wicket during the season